English
Fans of the game DayZ have been eagerly waiting for a beta release and their patience is finally paying off as Gamescom reveals the first results of their efforts. In their initial tech demo, presented by the developers, we were shown that the new engine provides changes to the character, close and long-distance contact as well as some new alterations to the infected. However, it seems that this barely even scratches the surface of the new game changing additions to be seen.
Changes to Gameplay and Inventory
Due to the updated engine in this build, DayZ players can expect a lot of new and improved changes to how the game controls. To make the game more fluent, there are less interactions made in the inventory and more in the actual game. For example, if you wanted to open a can, you would equip it in your hand then find the right tool to use from the hot bar. If you wanted to change your emotion, use the C key and jumping will be moved over to space. Combat is initiated by holding down the right mouse button and then executed using several sequential left clicks. For veteran players this may take some getting used to, but overall it's quite an improvement upon the original mechanics.
As announced in the latest status report, characters can no longer move whilst simultaneously using the inventory menu. To counter this, your characters now have much more flexibility; the new controls allow the player's character to move with more fluidity than ever before and even makes the inventory much easier to use. There will be a floating cursor to mark items within the player's sight which can be unchecked with a simple click. This proves to work very well and makes up for the removed parts of the inventory.
Endurance and Injuries
A new addition to certain actions (such as eating and drinking) is that you can now move whilst doing them. However, you are going to need to plan your journeys more with the new release due to the digesting system that limits your sprinting times. Your character's maximum endurance can be affected by the amount of equipment you carry, meaning that a highly equipped military character is less likely to sprint unlike a newcomer with no equipment. Though, there are character abilities that can compensate for this.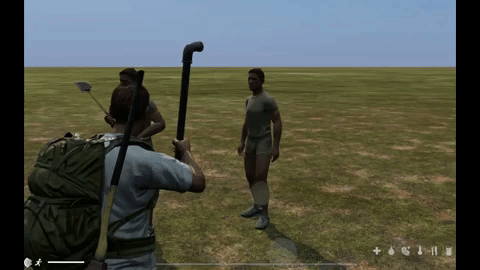 In the test game we tried out, we deliberately went searching for fights against numerous infected to test out the new melee combat system. Using targeted combos with our fists, an axe and even a radiator, we were able to slug zombies a good one without the usual circling that used to be required. The after effects of our characters were very nicely detailed and visible too, leaving us gradually with limps and visual arm pain from the damage caused. In short: the new injury animations look excellent.
Many Problems Have Been Fixed, Though Some Remain
Fortunately, many annoyances and issues with the previous builds of the game have been improved upon greatly. User actions have been heavily reworked so that usual drinking sparks at wells are no longer possible. Small seeds and apples spawn within the world (or under trees) meaning it's no longer possible to sow infinite amounts of seeds and trees.
Doors have also been reworked and now have unit sizes which make it easier to travel through buildings, though some individual buildings do still have bent doors meaning you're able to pass through but not close or open them.
Sometimes, we found that players didn't want to accept our friendship, to which we replied with a few well combined hooks to the chin. Instead of disappearing to the heavens as we had expected, they stayed frozen in place on the floor to let you remember the lesson you had to teach. This tech-demo certainly shines when it comes to all the technical improvements and the alterations made, displaying it beautifully and making the game feel much smoother.
There's Still More Waiting
Whilst the tech-demo certainly displayed a lot of promise and provided much more fluid gameplay and an appealing new combat system, there is no word on when this update is going to be released to the public. We're not expecting a public beta release within the coming weeks so it can be expected that they will be reaching this milestone next year.
"Patience" is certainly the last word DayZ players want to be hearing right now as it's clear they've given enough over the years; but the developers are extremely confident that it will be worth the wait as the changes that are being brought are bigger and better than ever before.
[Guided_EN_Facebook][/Guided_EN_Facebook]